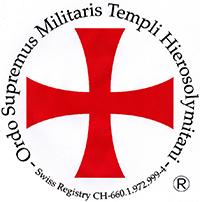 GPFT - GRAND PRIEURE DE FRANCE DU TEMPLE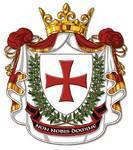 Ordo Supremus Militaruis Templi Hierosolymitani - Sovereign Miltary Order of the Temple of Jerusalem
ACCOMPAGNER L'HOMME DANS SON PELERINAGE : LA VIE...
Nous sommes tous horrifiés par les attaques barbares perpétrées dans le monde par des terroristes qui de par leurs actions même s'excluent de la communauté et de la Fraternité Humaine.
Ces lâches tuent sans discernement des innocents : ce n'est certainement pas de cette manière qu'ils gagneront leur "Paradis".
Notre Ordre continuera de parler avec tous ceux qui , quelque soit leur religion ou leurs croyances, peuvent encore être appelés des Hommes ou des Femmes car ils ou elles respectent la Vie et la dignité de l'Etre Humain.
NOUS APPELONS TOUS LES MODERES DE TOUTES LES RELIGIONS A S'UNIR CONTRE CEUX QUI PERPETUENT CES ACTES ABOMINABLES
QUI SOMMES-NOUS?
le GPFT est juridiquement une association loi 1901
, mais dans notre coeur nous sommes plus que cela. Nos objectifs sont humanitaires, culturels et caritatifs
Le GPFT est membre fondateur de l' OSMTH* (
Ordo Supremus Militaris Templi Hierosolymitani /
Sovereign Military Order of the Temple of Jerusalem).
L'OSMTH est une
Organisation Non Gouvernementale à statut consultatif spécial aux Nations Unies (ECOSOC
N°19885)
, aussi m
embre de:
D.P.I. / ONU et du CoNGO (Conférence des ONG à statut consultatif). Nous sommes membres du

CA du CoNGO depuis avril 2014

Bureau International de la Paix (Prix Nobel 1910)

Plateforme des Droits Fondamentaux de l'Union Europeenne

* OSMTH: Ordre International régi en France par la Loi de 1901, enregistré en Suisse, et représenté en France exclusivement par le Grand Prieuré de France du Temple (GPFT) (Site web international: www.osmth.org)

LE LIVRE DU 700EME ANNIVERSAIRE

:
FROM
HISTORY TO THE TWENTY-FIRST
CENTURY MISSION
Nine Hundred Years since the Foundation of the Poor
Knights of Christ in the Temple of Jerusalem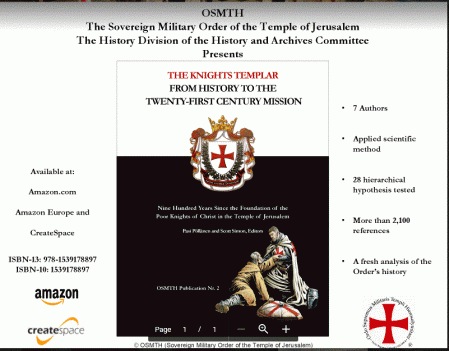 est maintenant en vente sur AMAZON ET CREATESPACE!!!
7 auteurs, près de 350 pages, 2100 références, un travail de niveau universitaire
SUR CREATESPACE/ : ID : 6574741
ISBN-13: 1539178897 ISBN-10: 1539178897
POUR LE COMMANDER CLIQUER SUR CE LIEN: https://www.amazon.com/dp/1539178897/
n Altesse Royale Princesse Elizabeth
Sa Béatitude Métropolite Theodosius