Membre fondateur de l' OSMTH

*
(Sovereign Military Order of the Temple of Jerusalem)
Organisation Non Gouvernementale à statut consultatif spécial aux Nations Unies (ECOSOC N°19885)
Membre du D.P.I./ONU et du CoNGO (Conférence des ONG à statut consultatif)
Membre du Conseil d'Administration du Bureau International de la Paix (Prix Nobel 1910)
Membre de la Plateforme Des Droits Fondamentaux de l'Union Européenne
*Ordre International régi en France par la loi de 1901
et représenté en France exclusivement
par le GPFT.
* OSMTH (Sovereign Military Order of the Temple of Jerusalem) en Anglais
QUI SONT LES DIRIGEANTS ACTUELS DE L'ORDRE ?
(Octobre 2016 --Octobre 2019
GRAND MAITRE passé immédiat PROTECTEUR SPIRITUEL
Amiral James CAREY Sa Béatitude NOURHAN MANOUGIAN
GCTJ USA Patriarche Armenien de Jérusalem

4 DIRIGEANTS ELUS
2016 - 2019
GRAND MAITRE GRAND COMMANDER Vice GRAND COMMANDEUR CHANCELLIER GENERAL
Brigadier General Brigadier General Colonel Attorney
Patrick E. REA Dr Marcel de PICCIOTTO Thomas P. CURTIS Dale STARKES
GCTJ USA GCTJ FRANCE GCTJ USA GOTJ USA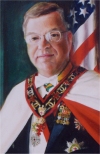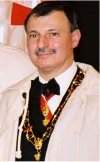 DES DIRIGEANTS NOMMES
Chapelain Général Secrétaire Général Député Secrétaire Générale
SE Eveque Brigadier General Lt CDR
Munib YOUNAN John DIGILIO Nicole LASSALINE
Primat Eglise Evangélique Luthérienne
GCTJ JERUSALEM GCTJ USA GOTJ CANADA


Archiviste Général Aumonier Général Maréchal Général Avocat Général
Leo THYS Erika BARTY-KING Marquis Ennio SENESE Capitaine Felix BIEDERMAN
GCTJ FRANCE/BELGIQUE GCTJ ENGLAND & WALES GCTJ ITALIE Allemagne
Référendaire Général Hérault d'Armes
Colonel Terrence BENSHOOF Russ COPPING
Représentants OSMTH à l'ONU
.
Economic and Social Council à New York City, NY,USA
Chef de délégation
:
Rear Admiral [Ret.] Bob Lunney, Esq
.
ONU NEW YORK
jrlunney@yahoo.com
Membre
Dr. Frederick Fedorchak grailseeker@earthlink.net
Membre
Dr. Evangeline Gouletas egouletas@skylineequities.com
Membre
Princesse Renate zu Windisch-Graetz AWindischG@aol.com
Membre
Canon Andrew White apbw2@cam.ac.uk
Economic and Social Council à Vienne, Autriche
Chef de délégation: Baron Wolfgang Odelga ONU VIENNE
osmthaustria@yahoo.com
Membre
Dr. John Ryan ryanj@regents.ac.uk
Membre
BG Ronald S. Mangum RMangum410@aol.com
Membre
Milan Lajhner milanlajhner@yahoo.com
Membre
Jakob Huszarek huszarek@hotmail.com
Economic and Social Council à Geneve, Suisse
Membre
Prince Hans-Georg zu Ysenburg und Budingen ysenburg@freenet.de
Membre
Dr. Ilkka Valimaki, M.D. ilkval@utu.fi
Membre
révèrend John SCHMELLING
Membre
Révéréend Jean FORD
Representants aux Commissions Economiques Régionales des Nations Unies en 2006
Europe Mr. Ivano Serre -
Base - Italy studioserre@libero.it
Africa
I. Galli -
Base - The Netherlands
Latin America & Carribean COL Richard Flahavan -
Base - Virginia rflahavan@sss.gov
Middle East & Western Asia Mrs. Suad Younan -
Base - Israel ga_elcj@netvision.net.il
Asia and the Pacific Rev Pertti Ruotsalo -
Base - Finland
DIRIGEANTS RECENTS DE L'ORDRE (21ème Siècle)
2001-2004
Grand Maître : Major Général Sir Roy REDGRAVE (UK)
Grand Commandeur : RADM James CAREY (USA)
Deputé Grand Commandeur : Prof. Ortwin GEIBEL (DE)
Grand Chancellier : Col Ron MANGUM (USA)
2004-2007
Grand Maitre: RADM James CAREY (USA)
Grand Commandeur : BG Patrick REA (USA)
Deputé Grand Commandeur : Baron Wolfgang ODELGA (AUS)
Grand Chancellier

:

Lt Col Fredrik MICHELET (NO)
2007-2010
Grand Maître : RADM James CAREY (USA)
Grand Commandeur : BG Patrick REA (USA)
Deputé Grand Commandeur : Dejan MILEKOVIC (SERBIE)
Chancellier General: Col Marcel de PICCIOTTO (FRA)