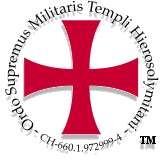 GPFT- GRAND PRIEURE DE FRANCE DU TEMPLE
Membre fondateur de l' OSMTH

*
(Sovereign Military Order of the Temple of Jerusalem)
Organisation Non Gouvernementale à statut consultatif spécial aux Nations Unies (ECOSOC N°19885)
Membre du D.P.I. / ONU et du CoNGO (Conférence des ONG à statut consultatif)
Membre du Conseil d'Administration du Bureau International de la Paix (Prix Nobel 1910)
Membre de la Plateforme des Droits Fondamentaux de l'Union Européenne
* OSMTH : Ordre International régi en France par la loi sur les Associations et représenté exclusivement par le GPFT
DECLARATION ECRITE AU CONSEIL ECONOMIQUE ET SOCIAL EN MAI 2011
"Implementing the Internationally Agreed Goals and Commitments in regard to Environmental Education"
This statement is jointly submitted by 20 Organizations in ECOSOC consultative status.
World Movement of Mothers, Planetary Association for Clean Energy (PACE), OSMTH (Sovereign Military Order of the Temple of Jerusalem), African Commission on Health Promoters and Human Rights (CAPSDHR), International Alliance of Women (IAW), International Association of Peace Messenger Cities (IAPMC), International Federation of University Women (IFUW), International Islamic Relief Organization-Saudi Arabia (IIROSA), OCAPROCE International, PAX ROMANA, International Network for the Prevention of Elder Abuse (INPEA), Women's World Summit Foundation (WWSF), World Federation for Mental Health, Worldwide organization for Women, Al-Hakim Foundation, Fundcion Intervid, GAIA MATER, North South 21We appreciate the constructive work by Member States and the efforts in the various intergovernmental negotiations relating to the urgent problems posed by environmental, with notably the 2010 COP10 on the Convention on Biodiversity in Nagoya, Japan, the 2010 International Year on Biodiversity, preparatory meetings being convened for the forthcoming UN Framework Convention on Climate Change in Durban, South-Africa, and the 2011 International Year of Forests.
With such emphasis on the environment, we consider that Environmental Education and Human Rights education related to environmental issues are an important part of the overall environmental agenda, and we call upon all Member States to demonstrate in practice their commitment to education by including Environmental Education as a means to understand and reconnect to the natural world, our environment, our home upon which we all rely for our physical, spiritual and cultural well-being. A healthy and sustainable environment is a prerequisite for sustainable development.
The need for Environmental Education has already been highlighted in many international conferences and declarations since it first gained international recognition at the 1972 Stockholm Conference on the Human Environment. In recent years however, the focus has somehow shifted.
Environmental Education concerns every individual, irrespective of their sex, age, race, religion or economic and social status, as well as every human group at every level from families to communities, from villages to regions and nations, from small local businesses to large transnational corporations.
Environmental Education should also include the principles of human dignity, inclusion, non-discrimination and equality, as well as economic, social, cultural human rights and most notably the Right to Life, Right to Food, the Right to clean drinking water and sanitation, the Right to Health, the Right to Peace…
Women form the most vulnerable group and have the most to loose as the Environment suffers, and yet women are also the main potential positive actors: caring is one of their core values, e.g. for each others, for future generations and for the larger environment. Girls and women should be the main target group for education in general and Environmental Education in particular.
The important role of families in informal Environmental Education should also be recognized and supported: families can be powerful actors in raising children awareness on the beauty and importance of Nature and the need to protect it; and it is mostly within the Family that Values can be transmitted, most notably Respect for other human beings and for Nature.
Recalling the 2010 Gulf of Mexico oil spill and the recent Fukushima nuclear reactor accidents we also call for environmental education at the corporate level in order to prevent such ecological disasters and the ensuing human rights violations and abuses.
We therefore call on all Member States to make Environmental Education a reality and focus within the United Nations Decade of Education for Sustainable Development and their national sustainable development strategies.