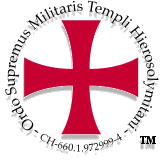 GPFT- GRAND PRIEURE DE FRANCE DU TEMPLE

Membre fondateur de l' OSMTH *

Report Panel on Intercultural and Interfaith Education: An Imperative for AchievingFreedom of Religion and Mutual Understanding Held during the Xth session of the council on Human Rights United Nations Palace, room: XXII 13 March 2009

(Sovereign Military Order of the Temple of Jerusalem)

Organisation Non Gouvernementale à statut consultatif spécial aux Nations Unies (ECOSOC N°19885),

Membre du D.P.I. / ONU et du CoNGO (Conférence des ONG à statut consultatif)

Membre du Bureau International de la Paix (Prix Nobel 1910)

Membre de la Plateforme des Droits Fondamentaux de l'Union Européenne

* Ordre International déclaré en France sous la loi de 1901 et représenté exclusivement par le GPFT

RELATIONS INTER-CULTUELLES

Xème session du Conseil des Droits de l'Homme,

O.N.U.Genève, 02 - 24 Mars 2009

Organisée par l'OSMTH et ARIGATOU INTERNATIONAL FLYER 2009 March HRE Series PANEL III.doc

Moderateurs:

- Dr. Marcel de Picciotto (OSMTH: Sovereign Military Order of the Temple of Jerusalem)

- Ms. María Lucía Uribe (Arigatou Foundation)

Panellistes:

- Ms. Dakmara Georgescu, Programme Coordinator, Technical assistance to UNESCO member States, UNESCO International Bureau of Education

- Dr. John Taylor, Representative, International Association for Religious Freedom and Co-chair, NGO Committee on Freedom of Religion and Belief

- Dr. Charles Graves, Representative Interfaith International

- Ms. Agneta Ucko, Director Arigatou Foundation in Geneva

- Ms. Ariane Hentsch, Representative Coexist – Youth Interfaith Platform, Geneva

The panel aimed to look at the main issues concerning discrimination on the basis of religion or beliefs, with special emphasis on what has been done in the field of interfaith and intercultural dialogue and education, current perspectives, challenges and progress.

Ms. Dakmara Georgescu highlighted today's curriculum trends in formal and non-formal education promoting learning to live together through intercultural education as well as the challenges for its implementation. While foci and approaches may differ, learning to live together and intercultural education are in most cases national priorities within education and curriculum reforms. They are taught in a variety of ways: promoting the appreciation of one's own culture, of other cultures, fostering respect and tolerance for diversity, and most complexly learning from one another in order to engage in a constructive dialogue.There is an understanding of values as the core of the definition of culture, which include other concepts like social habits, norms and rules, symbols, language, knowledge, identity, identities,artistic manifestations, mindsets and beliefs,. She referred to the "onion" model of culture (Hofstede) to explain its different layers and pointed out the difficulties dealing with the inner part, which represents the values. Ms Georgescu underlined the following trends in the development of curriculum to foster intercultural education: 1) the multilayer approach of identity, not only promoting a local ornational identity but emphasizing that individual and community identities are forged in a more complex way nowadays.

2) The multi-linguistic approach which enhances learning about others.It includes teaching foreign languages but also minority languages in schools. 3) Intercultural studies are embedded in history, language courses or life skills courses. 4) Focus on competencies for life and work.Conceptualization of intercultural education is one of the main challenges for its implementation. Another major challenge is its application in post-conflict countries, quite often not yet preparedto deal with the "other" and at an early stage to initiate a process of healing and reconciliation.Quality education is also a concern in the application of intercultural education and the need for substantive capacity development and adequate know-how for teachers, decision makers and other stakeholders. The last challenge pointed out was the lack of knowledge on how to assess competences for life or the outcomes of peace and intercultural education. Ms. Georgescu finally underlined four learning outcomes of intercultural education: open mindedness, intercultural literacy, operational capacity to work together in complex and diverse environments, and linguistic proficiency in order to be better equipped to understand other cultures.

Dr. John Taylor made a connection between intercultural and interfaith education and the work of the UN special Rapporteur on Freedom of Religion and Belief, Ms. Asma Jahangir. Ms. Jahangir gives high importance to education for understanding and recommends in her report the use of the Toledo Guiding Principles on Teaching about Religions and Beliefs in Public Schools as a potential worldwide guideline. The final recommendations of the International Consultative Conference on School Education in relation to Freedom of Religion and Belief, Tolerance and Non-discrimination, organized by the former Special Rapporteur together with the Spanish government in Madrid, 2001, underlines the importance of school education to challenge religious discrimination between and within religious communities, and between religious and secular communities.

The UN General Assembly in November 2008 asked for the United Nations Decade for Interreligious and Intercultural Dialogue, Understanding, and Cooperation for Peace and proposed UNESCO and other UN agencies to investigate its feasibility. Dr. Graves pointed out that religion is on the agenda of the UN with positive responses from civil society, religious communities and a good number of UN agencies and governments. Finally Dr. Taylor said that 2010 will be a Year of Rapprochement among Cultures, with the support and implementation of UNESCO, for cooperative programs on the topic of intercultural and interfaith education.

Dr. Charles Graves spoke about his organization as a concrete example to promote interfaith cooperation in the area of human rights and shared specific cases of violation of freedom of religion and belief. Interfaith International provides an opportunity for people to meet despite their differences in a practical interfaith and intercultural experience within the context of human rights.

Some NGOs have difficulties participating in human rights debates due to restrictions impose by their governments. Interfaith International provides these NGOs with accreditation and the opportunity to speak at side events of the Human Rights Council. Dr. Graves also spoke about issues of religious discrimination and intolerance within religious communities and the efforts of Interfaith International to promote dialogue between minority and majority groups in certain countries. Dr. Graves noted that discussions about defamation of religion and freedom of religion can be held between States, if those discussions are carefully organized so the parties do not feel committed to any particular position about religions. Interfaith International also supports initiatives against xenophobia such as the Durban Review Conference to be held in April 2009 and the Civil Society Forum in that conference. Minority groups or those who are discriminated against should be given the opportunity to speak during the Conference.

Ms. Agneta Ucko introduced the Arigatou Foundation, a Buddhist, Japanese initiative and its Global Network of Religions for Children, GNRC, the only worldwide interreligious network dedicated to work for children. Ms. Ucko presented a publication recently developed by the Arigatou Foundation together with UNESCO and UNICEF, titled "Learning to Live Together" named after one of the UNESCO four pillars for education. One of the objectives of the material is to look at what is taught in the different faith traditions about the other in order to be peace builders and prevent conflicts. She said "If major religious traditions come out and speak together on human rights and children's rights there is a greater chance to make a difference". The material is developed to help youth leaders, teachers and facilitators who want to promote interfaith and intercultural understanding. The unique characteristic of this manual is that it was conceptualized from the beginning by scholars and practitioners from several religious traditions and secular thinking. The interreligious and interfaith process to develop the manual is an example of what it promotes.Another characteristic is that it was field tested in 15 different religious and cultural settings to understand how the values lifted up are conducive for harmonious living together. The material is available in three languages and it is a contribution to human rights and peace education. Its methodologies follow the concept of role modelling, placing great importance on those who use it. Ms. Ucko finally noted that this initiative doesn't avoid putting on the table and work with the religious identity, which is sometimes more difficult to deal with.

The last speaker, Ms. Ariane Hentsch based her presentation on a survey about spirituality of young people presented in 2002 in the book Chemins de spiritualité. Jeunes en quête de sens,written by Gabriel Ringlet, as well on her experience within a local youth interfaith platform sheco-founded and with an international youth forum she organised for the World Council of Churches. The survey was developed for more than 500 university students aged 18 to 30, mainly from Europe. Its objective was to understand how young adults manage their quest for meaning and their relationship to organized religion. The survey shows that students in their great majority express a genuine yearning for spirituality, to be understood not in a strictly religious perspective but as a permanent quest for meaning. Youth consider organized religions as one source of meaning among others and their own community. For many students, their beliefs and observances are not officially embedded in organized religion but rather their quest is personal and pro-active. In 2004, the Youth Interfaith Platform, a local organization now renamed Coexist – was consulted about religious pluralism and its relation to interfaith and personal behaviour. The results show that pluralism should enable the adherents of different faiths to go beyond tolerance for each other and establish a respectful relationship. Pluralism should lead to a clear distinction between religion and politics, religious and institutional matters, and religious and cultural features.She spoke about the importance of a religious education that integrates religious pluralism. Youth seek guidance through the plethora of religious traditions, and not through a unilateral imposition of one dogma, they feel in charge of defining their religious and secular identity in conjunction with others and are critical of religious teachings, intellectually, emotionally, andspiritually.

The presentations were followed by questions and comments from the participants. Some of the questions were:

1. How can religious education be included in human rights education?

2.What concrete actions have been taken in relation to article 18 of the UN Declaration of Human Rights to promote human rights education?

3. What kind of religious education is needed to foster freedom of religion and belief, is it only religious education, interreligious or interfaith education?

In relation to the first and second questions, Ms. Georgescu responded that there are many initiatives already developed in Europe and in other countries to help ministries design courses on interreligious education. Ms. Georgescu also mentioned a study under the auspices of the Open Society Institute in 2004 on religious education in Europe that shows that in many European countries religion is taught comparatively as multi religion, or as history of religion, and not necessarily as instructing about a certain belief. However, there are cases in some countries where religious instruction about a particular faith still prevails.Ms. Georgescu underlined that the World Programme for Human Rights Education needs to provide more tools and promote effective experiences and good practices for people and organizations. It is also important to respect the policies of each country in relation to the inclusion of religious education in schools. Ms. Ucko pointed out that there are already many educational materials on interfaith education that foster respect for human rights. She also emphasised on the challenges ahead to promote interfaith education in countries where religious education is taught separately according to children's religions.

In response to the third question, Dr. Taylor explained that religious education is categorised in three areas: learning religion, learning about religion and learning from religion Learning religion refers to instructing about a particular religion, learning about religions refers to teaching from a descriptive and historical approach, comparing values, beliefs and practices, and learning from religions emphasises on creating reflective spaces regarding questions to major religious and current issues.

Conclusions

Respect for freedom of religion and belief is still a complex issue in many countries today. The discussion underlined that religion, in some places, is exploited for political ends, fuelling discrimination based on religion or belief, and therefore restricting or denying the access to health services, public education of public posts to certain minority religious groups. Intercultural and interfaith education and dialogue is a response to promote freedom of religion and belief and an effort to bring about mutual understanding and respect to societies. It is an area still to be refined and further conceptualised in order to be easily measured and evaluated. Intercultural and interfaith education and dialogue is already in the agenda of the United Nations, its agencies and many NGOs and governments. It has become a priority in our current interdependent and globalised world and a need to be able to live and work together. It is the right time to mainstream interfaith an d intercultural education into the human rights arena andpromote it in those countries where religious and cultural discrimination is still a reality, in other places where it can serve as a preventive measure and in post conflict regions where reconciliation and respect for the other are needed.